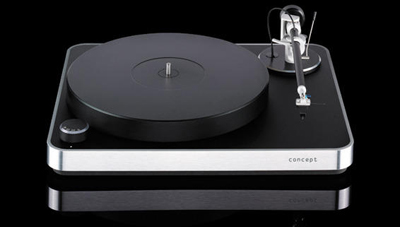 ClearAudio Concept
ClearAudio Turntables are made in Germany
CLEARAUDIO TURNTABLES

Clearaudio's $170,000 Statement is often called the finest turntable made. The $1600 Clearaudio Concept is also made in Germany & includes a quality Clearaudio cartridge, plus a knob that switches the speed from 33 to 45 to 78 rpm. This turntable was awarded PRODUCT of the Year by ABSOLUTE SOUND & WHAT HI-FI. STEREOPHILE praises this turntable.

CLEARAUDIO TURNTABLE REVIEWS

CONCEPT, $1400; with $250 Clearaudio m.m. cart., $1600; with $1,000 Clearaudio m.c. cart., $2200 "Really easy to set up; rich midrange & mesmerizingly 3-dimensional; sounded full bodied & fleshy, with smooth, natural natural sounding sibilants. The rich presentation provides a pleasing alternative to digital sound's flat imaging. Fantastic in the midrange, where it's smooth, clean & notably transparent. Exceptionally attractive, easy to set up & better built than its price would suggest. It's a quiet, smooth performer that excels at midrange smoothness & transparency that makes speakers seem to vanish." STEREOPHILE

"The Concept offers a hugely rewarding analog experience at a very attractive price. Though its perfornance may not equal the very finest, its combined strengths in resolution, dynamics, low noise & sheer musical engagement won't leave you wanting. Terrific German build & finish; a hands-down bargain." ABSOLUTE SOUND

"The Concept does everything but unbox itself. Preset at the factory, it features a svelt belt-drive chassis, a stunning friction-free, magnetic-bearing Verify tonearm & the Concept moving-magnet cartridge. The build & fiinish of this German-made 'table are superior. For sheer musical engagement & superb speed stability, it's the one to beat in this price range."
ABSOLUTE SOUND EDITOR'S CHOICE
ABSOLUTE SOUND PRODUCT of the YEAR

PERFORMANCE DC, $2999; Includes carbon fiber tonearm with magnetic bearings. "Startling transparency, openness & clarity."
ABSOLUTE SOUND EDITOR'S CHOICE

OVATION WOOD, $6500, Includes carbon
fiber tonearm with magnetic bearings. TURNTABLE OF THE YEAR "Impressive clarity of definition, transparency to the source & excellent overall tonal balance. It all adds up to terrific value." ABSOLUTE SOUND

"A terrific deal. Very well balanced, with excellent detail that emerges from silent backgrounds, exceptional pitch stability & sweet extended highs. The Ovation niceIy bridges the gap between high-end sound & real world convenience." ABSOLUTE SOUND

"Impressive clarity of definition, transparency & excellent tonal balance; a near ideal balance between weight & delicacy. Fine ability to focus on the heart of the music, weaving complex instrumental lines, while always remaining dynamically nimble & rhythmically precise. The upper end was sweet, extended & airy. I view the ovation as a major success. This easy to set up, maintain & operate package will bring its owners years of musical satisfaction." Featured on the cover of ABSOLUTE SOUND

INNOVATION WOOD, $10,000 "The dual-plinthed Innovation Wood combines some stunning innovations with Clearaudio's ceramic/magnetic bearing (CMB) technology & lightweight yet extremely dense Panzerholz to damp resonances. It uses a massive stainless-steel subplatter, which when coupled with a new DC motor with optical speed control, results in superb speed accuracy. We have not heard any belt driven "table best the Innovation Wood in this critical area. Music emerges from a black background & has outstanding soundstaging & ambience retrieval when mated with a first-rate arm & cartridge. This is a terrific analog frontend of near-reference quality that raises the bar on what an $11,000 'table can do." ABSOLUTE SOUND

STATEMENT, $170,000 with tonearm; $140,000 without tonearm "This over-the-top, 4' tall, 770-pound turntable/arm delivers an unmatched level of LP playback. Utterly quiet, stable & capable of extracting the finest detail. Simply astonishing levels of performance." ABSOLUTE SOUND

"THE BEST. Cutting edge, beautifully built, a visual masterpiece. Magnetic drive for its heavyweight acrylic platters completely isolate the belt drive from the tables' motor. I liken the effect of hearing an LP through this mechanism to riding in a car on air, not on tires (no road noise!). LPs now have the same freedom from low frequency garbage that CDs do (or should). The bottom octave is reproduced with unprecedented transient response & articulation. A masterpiece." ABSOLUTE SOUND

BENZ CARTRIDGE REVIEWS

MICRO ACE SL, $900, "Wide-open midrange, plenty of definition & air around instruments & voices & tight, clean, bass. It can do a great job of walking that fine line between resolution & smoothness." ABSOLUTE SOUND EDITOR'S CHOICE

Rated exceptional value, in same class as cartridges for $3200 "Tracing & tracking impressive by any standard; produced solid images within a wide soundstage, astonishing amount of inner detail." STEREOPHILE

MICRO GLIDE SM, $1200, "Superlative tonal balance - lower mid & bass warmth, a lush midrange & a presence range & treble that have air & delicacy. The Glider is both faster on transients & more complex micro-dynamically. Gobs of low level detail & clarification of complex inner voices. For playback as musically expressive as it is honest, the Glider will set your system soaring." ABSOLUTE SOUND

SLR GULLWING, $3000, "Very transparent, which makes music sound immediate & more produced than reproduced. It's a wonder at showing shifts in music's volume & inflection. It carves out a musical space as each recording demands & excels at micro & macro dynamics, while delivering lightning-strike transient response. Combined these strengths help bring you that much closer to the real deal." ABSOLUTE SOUND

"Very quiet & transparent, stunning sounding. It breaks through room boundaries & time frames by delivering highly convincing facsimiles or all that it touches - chamber groups, orchestras, voices, jazz, rock, you name it." ABSOLUTE SOUND EDITOR'S CHOICE

MICRO LP S, $5000, Rated in same class as cartridges for $15,000 "Smooth treble, supple bottom end & profoundly well-developed instrumental textures." STEREOPHILE

CARTRIDGE OF THE YEAR "Superb transient speed & world-class low-level resolution, one of the most neutral, lifelike & least mechanical sounding statement quality m.c. on today's market - and at $5000, perhaps the best buy." ABSOLUTE SOUND

"Very high resolution, very low noise, which can consistently reveal details you've never heard before from records you thought you knew by heart." ABSOLUTE SOUND EDITOR'S CHOICE

BENZ LP S-MR , $5000, "More than holds its own in direct comparison with the very best cartridges we've reviewed. Here, for once, is a moving coil that seems nearly characterless - utterly neutral, very transparent to sources, exceptionally fine detailed, extraordinarily dynamic (at both the loud & soft ends of the spectrum), wall-bustingly wide in soundstaging, precise but not laser-cut in imaging & consistently lifelike in overall presentation. One of our reference cartridges." ABSOLUTE SOUND
CLEARAUDIO CARTRIDGES

SAVE UP TO 40% by TRADING in your old CLEARAUDIO CARTRIDGE!

MAESTRO EBONY V2, $1200, 2014
CARTRIDGE OF THE YEAR "The successor to the redoubtable Maestro Wood, the Maestro V2 Ebony is a sonic improvement in every way. Its overall balance brings symphonic recordings to life. Low-level detail is elegantly resolved. The Ebony resolves transients with lightness & speed . As musical as they come, the Maestro V2 Ebony should be required listening for moving-magnet & moving-coil fans alike." ABSOLUTE SOUND 1/14

CONCERTO V2, $2750 "This is the entry-level cartridge in Clearaudio's "super-class of moving coils & super it is! The Concerto uses wood to add a touch of warmth & richness, yet retains the superb focus, resolution, transient quickness & top-end extension that have been hallmarks of Clearaudio's reference cartridges." ABSOLUTE SOUND EDITOR'S CHOICE

STRADIVARI V2, $3750 "In our recent survey of 5 moving-coil pickups, the Stradivari received a "Golden Mean" award because it ideally mediates wamth & detail, control & relaxation, liveliness & listenability, at virtually no sacrifice in tonal neutrality. There is an organic rightness about this pickup that elevates it to reference-caliber." ABSOLUTE SOUND EDITOR'S CHOICE

"The low-mass Stradivari has a body of aged Ebony & coils wound with 24k gold. Leaner, smoother, more litreral translation of the recorded event. Its decidedly smooth, liquid sheen produced a satisfying sense of musical relaxation." CLASS A RATED, STEREOPHILE

GOLDFINGER STATEMENT, $15,000
CARTRIDGE OF THE YEAR "The best cartridge Clearaudio has yet made & the best moving coil money can currently buy." ABSOLUTE SOUND

"The sweetest, most musical Clearaudio ever, the Goldfinger Statement sounds ravishingly beautiful. It has that incredibly expansive Clearaudio soundstage & perhaps the deepest reaching, best-defined, most powerful bass of any moving coiI. At 0.9mV, it has enough output to drive any phono stage. The class of world class, our new ultra-high end reference." ABSOLUTE SOUND

"PERHAPS THE BEST CARTRIDGE. Measured nearly 35db chan. separation & 0.20% harmonic dist., astounding figures. Ravishingly beautiful cartridge to listen to & the most phenomenal soundstaging I've heard with the best, deepest reaching, most powerful, most highly evolved, most completely natural bass I've heard - ever from an analog source. This cartridge simply blows the walls out, delivering an almost surround-like soundfield of unparalleled width & depth, with the added bonus of the most thunderous, floor & wall shaking bass I've heard. A snap to set up, its very high output 0.9mv output makes it an easy match to any phono stage & it tracks wonderfully." ABSOLUTE SOUND

CLEARAUDIO ACCESSORIES

Clearaudio's comprehensive accessory line can improve the performance of most turntables. Since the clamps are not threaded, they fit virtually any turntable.

CLAMPS
Clever Clamp $30
Concept Clamp $125
Twister Clamp $150
Quadro Clamp $200
Statement Clamp $1,000

TEST RECORDS
Trackability Test Record 180g $80
Music Pickup Test Record 180g $45
Break-in Record Test Record 180g $80

Outer Limit & Locator Ring $1,350
Locator Ring $250
SPEED Strobe Test-LP $60
SPEED Strobe-Light $200
Bubble Level $20
Precision Bubble Level - stainless steel $60
Smart stylus tracking force gauge $25
Weight Watcher electronic tracking force gauge $250
IEC Cartridge Alignment Gauge $275
Diamond stylus brush - dry cleaning $15
Elixir of sound stylus clean. fluid & brush $30


CLEARAUDIO ACCESSORY REVIEWS

SPIRIT LEVEL, $60 "Turntables sound their best when they are level - something careful listeners will want to check at set-up time & verify periodically. Remember: Furniture & floors sometimes settle a bit over time. Use a good multi-axis spirit level such as this one to keep your table on the level." ABSOLUTE SOUND EDITOR'S CHOICE

STROBO-DISC & STROBE LIGHT, $60 & $200, "Featuring grooves that create the additional stylus drag necessary to accurately measure your turntable's speed - while doubling as a cartridge break-in device - Clearaudio's Strobo-disc & Strobe Light are great tools for the serious vinyl junkie." ABSOLUTE SOUND EDITOR'S CHOICE

OUTER LIMITS TURNTABLE RING, $1350, "Heavy stainless-steel ring acts as a speed-stabilizing flywheel, damps the record & flattens outer-groove warps. Its weight means you can use it only with turntables with massive platters &/or very powerful motors. lt blackened backgrounds, solidified images & made them pop in 3 dimensions." STEREOPHILE

CLEARAUDIO RECORD CLEANING MACHINES

Clearaudio's record cleaning machines are a must for the serious record collector. Most noise on most records is from dirt, not scratches. Even new records have dirt in their grooves. Beyond improving the sound, your records & cartridge styli will last far longer when you use a record cleaning machine. Clearaudio record cleaning machines have a gear driven turntable platter, along with a vacuum pump that sucks away any remaining dirt or cleaning fluid from the grooves. The Clearaudio machines have attractive, aluminum chassis. SMART MATRIX PROFESSIONAL, $1600

DOUBLE MATRIX PROFESSIONAL, $4000 The Double Matrix Professional cleans both sides simultaneously, is bi-directional & variable speed & has a an antistatic brush. Since it does not use a turntable, dust can not be transferred from the machine to a clean record side.

"Foolproof; the most convenient option on the market. If you have a lot of dirty records, it is the cleaner I would recommend." ABSOLUTE SOUND

ACCESSORY OF THE YEAR "Offers an increase in convenience, reliability & functionality that puts it in a class of its own." ABSOLUTE SOUND

MUSICAL SURROUNDINGS
NOVA II, $1200, PHONO PREAMP of the YEAR
MM or MC, made in Germany, "The latest modifications have brought subtle improvements in dynamics & lifelikeness. Nova II kicks, slams & drives yet retains its underlying grace & composure. The options for loading & level make it a snap optimally to match any pickup & its quietness is extraordinary. Past units performed flawlessly. [It has] a svelte new profile & a super value has now become a super-duper one." ABSOLUTE SOUND, 1/14

CLEARAUDIO PHONO PREAMPS

All have RCA in/out & aluminum cases
NANO v2, MM or MC, variable gain $450
SMART v2, MM or MC, RCA in/out $700
BASIC PLUS, MM or MC, RCA in/out $1000
" Everything a modestly priced phono stage should be; compact yet elegantly finished; superb isolation from hum & RFI; supernaturally quiet, delivering a spacious & delightfully resolved soundstage with heart-stopping bass resolution. EDITOR'S CHOICE, ABSOLUTE SOUND

BALANCED +, MM or MC, RCA or XLR in/out
headphone & headphone level control $2750

Gold Sound is now celebrating our 40th year in business!
Visitors since Jan 2001



Copyright © 2001-2009 GoldSound, Inc.
.