We're open Tue-Fri 11-6, Sat 11-5. Recently customers bought home turntables, receivers, amps, tape decks, subs, speakers, etc. The only parts we sell are new home stereo cables, new Grado headphones, new Ortofon, Grado & Audio-Technica phono cartridges & needles. We only repair units bought here: new speakers, new turntables & vintage audio. Call us at 303 789-5310. Thanks for your support for over 44 years. TUBE AMPS All look & sound great, have gold RCA inputs & double banana 4/8 ohm speaker outputs, Integrated amps & preamps have line stage inputs only. DAREDs also have USB inputs. DARED LP100 is a phono preamp only. PRIMA LUNA point-point wiring, auto tube bias, removable steel tube cage. All preamps & integrated amps include aluminum remote controls. Integrated amps include tube headphone amps with 1/4" jacks. 3 year parts/labor warranty; tubes, 6 months. EVO400 Stereo 70W/ch Integrated amp, EL34/6CA7 tubes, $4999 EVO100 Stereo Preamp, dual mono, $1999 DARED MARS integrated hybrid, speaker & pre out, Bluetooth, 25W/ch, USB, headphone list $540, demo $389


Welcome to Gold Sound's TUBE PAGE.

5 new JOLIDA TUBE AMPS
at Gold Sound!

For over 20 years, Jolida has had some of the most affordable tube amps that are assembled in the U.S. STEREOPHILE and ABSOLUTE SOUND have recommended Jolida amps. Their newest products have a new brand name. BLACK ICE continues JOLIDA'S excellent parts and construction quality, plus superb value and reliability. BLACK ICE makes all tube integrated amps, preamps, power amps and phono preamps. Every Jolida integrated amp and preamp includes an aluminum remote control.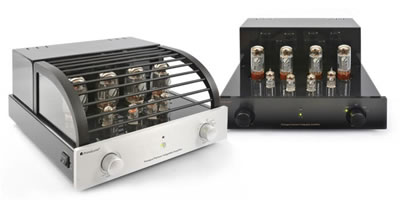 Prima Luna Dialogue Premium Integrated Amp
The best reviewed, most popular, affordable, high quality tube amps are from Prima Luna. >NEW at GOLD SOUND -
DARED TUBE AMPS

Prima Luna plus Jolida / Black Ice chose Gold Sound as their exclusive Colorado dealer.

WHY TUBES?

Tubes have a three dimensional quality on music that most solid state amps don't have. Most guitarists prefer almost any tube guitar amp over almost any solid state amp. Audiophiles love tube's imaging and midrange. Some solid state amps have harsh, artficial sounding midrange and high frequencies. Most of the music, including vocals, guitar, piano, violins and horns, is in the midrange. With tubes, the midrange and highs sound warm and sweet. You can listen all day without fatigue. New tubes are easy to find from many sources. Tubes can last many years. Gold Sound is your source for new and used tube power amps, integrated amps and preamps with superior sound quality, reliability and value. If your solid state amp or current speakers sound too bright, using a tube preamp will tame this, plus give you better imaging and a wider soundstage. Horn speakers that can sound harsh with a solid state amp, sound much smoother with a tube amp. Classic Klipsch, JBL, Altec and EV horn speakers were designed for tube amps and sound far better with tube amps.

Our new tube amps can sound better and cost less than classic amps. New amps give you a 2 to 3 year parts/labor warranty, remote control, headphone jacks, better quality capacitors, resistors and other internal parts, plus gold RCA inputs and double banana outputs. Some models include Home Theater Bypass, Subwoofer Output and balanced XLR jacks.

We display these tube amps:

GOLD SOUND is Colorado's exclusive PRIMA LUNA and BLACK ICE / JOLIDA DEALER!

DARED Compact Models
These models are very compact, combine tube and solid state electronics, feature built-in Digital to Analog Converters with USB computer input, premium construction and 1 year warranty.

MARS Hybrid Tube Integrated Amp, $498,
INPUTS: RCA line level, DAC, 2.4 gig wireless connection to smart phone, iPod & iPhone
OUTPUTS: 3.5mm headphone, RCA preamp, double banana 4 & 8 ohm size=3>speaker
TUBES: [1] 6N3
SIZE: 7.5 wide x 6" deep x 4" high

DR100 Hybrid Tube Integrated Amp, $575, 25W/ch
Remote control, Built-in FM DAB/RDS tuner w/20 station memories
INPUTS: 3.5mm line level, DAC, 2.4 gig wireless connection to smart phone, iPod & iPhone
OUTPUTS: 3.5mm headphone, double banana 4 & 8 ohm speaker
TUBES: [2] 6N1, 6E2 cat's eye VU meter
SIZE: 10" wide x 6.5" deep x 5" high

MP5BT Hybrid Tube Integrated Amp, $498
25W/ch
INPUTS: line level, USB with DAC to computer, 2.4 gig wireless connection to smart phone
OUTPUTS: 3.5mm headphone, RCA preamp, double banana 4 & 8 ohm speaker
TUBES: [1] 6N3
SIZE: 10" wide x 6" deep x 5.5" high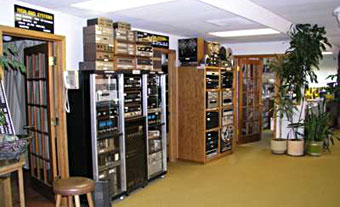 Gold Sound has a great selection of vintage tube equipment: TUBE AMPS & RECEIVERS: 30+ stocked w/100 day parts/labor guaranty + 100% 100 day trade-in. Most U.S.made. Many new affordable tube amps.

ALTEC 344A amp, 306A tuner. DYNACO Pre: PAS2, PAS3. Amps: SCA35, ST35, ST70. EICO amps: HF30, HF60, HF81, ST70. FISHER rcvrs w/wood case: 500, 800B. amp w/wood case: X101. Tuners w/wood cases: FM50, FM90B. HARMAN-KARDON amp: HK+50. HEATH AA50 amp. AJ30 tuner. WAP2 preamp. LAFAYETTE K250 amp+tuner. McINTOSH Preamps: C8, C20. Amps: two MC30; two MC60. 1700 Rcvr w/wood case. SCOTT amps w/wood case: LK48, LK72, 299C. Tuners: LT10, 310B. SHERWOOD S2200, S3000III tuners. STROMBERG-CARLSON Stereo 8 amp LOCAL SALES ONLY. Since 1976. Sat 11-5; Tue-Fri 11-6. GOLD SOUND 4285 So. BROADWAY, ENGLEWOOD, 80113 303 789-5310.



Gold Sound is now celebrating our 45th year in business!


Best selection of used tube equipment in Denver!


This Page Last Updated: 1/12/21



Visitors since Jan 2001

Copyright © 2001-2007 GoldSound, Inc.
.