Welcome to Gold Sound's TUBE PAGE.
5 new JOLIDA TUBE AMPS
at Gold Sound!

For over 20 years, Jolida has had some of the most affordable tube amps that are assembled in the United States. STEREOPHILE & ABSOLUTE SOUND have recommended Jolida amps. Jolida makes all tube integrated amp, preamps, power amps & phono preamps. Every Jolida integrated amp & preamp includes an aluminum remote control. All their products have excellent parts & construction quality.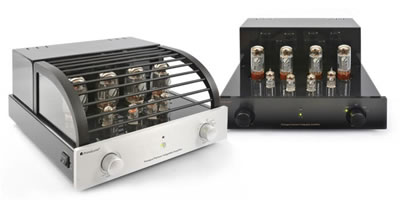 Prima Luna Dialogue Premium Integrated Amp
The best reviewed, most popular, affordable, high quality tube amps are from Prima Luna. Prima Luna's 35W/ch tube power amps start at only $1079. You will get more power from this amp than any other tube amp near its price. This amp can drive Focal & many other speakers at loud volumes. At our store you can hear Prima Luna tube integrated amps, preamps & 70W mono blocks.

Recently, an audio-technician from another Denver "high end" dealer called Prima Luna the best sounding amp that he had ever heard. His store has amps for over ten times the price of Prima Luna's HP amps, that he thought did not sound as good.

Gold Sound is Colorado's only Prima Luna dealer. Prima Luna has a 2 year warranty. We've been Prima Luna dealers for years & have not had any problems with any Prima Luna amps, including tubes. We have Prima Luna power amps, preamps & integrated amps on display, so you can here why so many knowledgeable audiophiles prefer tubes.

STEREOPHILE & ABSOLUTE SOUND give Prima Luna seven recommendations, the most of any amp company. While most McIntosh products cost several times more than most Prima Lunas, no McIntosh are recommended by ABSOLUTE SOUND & only one is recommended by STEREOPHILE.

PRIMA LUNA FEATURES
Every Prima Luna amp has:

1] SOFT-START CIRCUIT - Extends component & tube life, powers up gently every time you turn it on.
2] TUBE PLATE FUSE - Protects the amplifier output stage.
3] ADAPTIVE AUTOBIAS - Exclusive to Prima Luna, this circuit automatically monitors & adusts bias. Improved performance & better sound, reducing distortion by 40-50%. Plug in almost any power tube. Adaptive Autobias automatically adjusts from the supplied EL34 [or 6CA7] to 6550, KT88, KT90, 6L6GC, KT66, 7581, EL37, etc.
4] HAND MADE WITH POINT to POINT WIRING - Better sound & reliability than the microscopically thin conductive traces on printed circuit boards used on most other tube amps.
5] PREMIUM PARTS - Fully vented chassis, chassis-mounted ceramic tube sockets, Nichicon & Realcap capacitors, gold input jacks & banana type speaker terminals.
6]QUALITY CHASSIS - Made of finely finished, heavy gauge steel with a five step automotive quality finish with each coat hand-rubbed & polished. Removable tube cage included with all amps.

NEW at GOLD SOUND -
DARED TUBE AMPS

Dared & Prima Luna both chose Gold Sound as their exclusive Colorado dealer. New Dared Tube Integrated Amps include built-in DACs, including RCA & optical inputs for CD palyers, plus USB inputs for computer-based sources. The audiophile quality DACs, along with tubes, provides warmth & richness to digital sources.

WHY TUBES?

Tubes have a three dimensional quality on music that most solid state amps just don't have. Most guitarists prefer almost any tube guitar amp over almost any solid state amp. Audiophiles love the imaging & midrange of tube amps. Some solid state amps have harsh & artficial sounding midrange & high frequencies. Most of the music, including vocals, guitar, piano, violins & horns, is in the midrange. With tubes, the midrange & highs sound warm & sweet. You can listen all day without fatigue.

New tubes are easy to find from many sources. Tubes can last many years. Prima Luna, Jolida, Dared & Vincent amps have a two year parts & labor warranty. All have been very reliable; in fact, more reliable than many solid state amps. Gold Sound is your source for new & used tube power amps, integrated amps & preamps with superior sound quality, reliability & value. If your solid state amp or current speakers sound too bright, using a tube preamp will tame this, plus give you better imaging & a wider soundstage. Horn speakers that can sound harsh with a solid state amp, sound much smoother with a tube amp. Classic Klipsch, JBL, Altec & EV horn speakers were designed for tube amps & sound far better with tube amps.

Our new tube amps can sound better & cost less than classic amps. New amps gives you a 2 year parts & labor warranty, remote control, better quality capacitors & other internal parts, plus gold RCA inputs & double banana outputs.

We display these tube amps:

GOLD SOUND is Colorado's exclusive JOLIDA & DARED DEALER!

DARED Compact Models
These models are very compact, combine tube & solid state electronics, feature built-in Digital to Analog Converters with a USB computer input, premium construction, & a 2 year warranty. The RD1 has built-in speakers. Speakers are optional on the other models.

MARS Hybrid Tube Integrated Amp, $498,
25W/ch
INPUTS: RCA line level, DAC, 2.4 gig wireless connection to smart phone, iPod & iPhone
OUTPUTS: 3.5mm headphone, RCA preamp, double banana 4 & 8 ohm speaker
TUBES: [1] 6N3
SIZE: 7.5 wide x 6" deep x 4" high

DR100 Hybrid Tube Integrated Amp, $575, 25W/ch
Remote control, Built-in FM DAB/RDS tuner w/20 station memories
INPUTS: 3.5mm line level, DAC, 2.4 gig wireless connection to smart phone, iPod & iPhone
OUTPUTS: 3.5mm headphone, double banana 4 & 8 ohm speaker
TUBES: [2] 6N1, 6E2 cat's eye VU meter
SIZE: 10" wide x 6.5" deep x 5" high

MP5BT Hybrid Tube Integrated Amp, $498
25W/ch
INPUTS: line level, USB with DAC to computer, 2.4 gig wireless connection to smart phone
OUTPUTS: 3.5mm headphone, RCA preamp, double banana 4 & 8 ohm speaker
TUBES: [1] 6N3
SIZE: 10" wide x 6" deep x 5.5" high

RD1 Retro-style Tube FM Tabletop Radio, $649
Built-in FM DAB/RDS tuner w/20 station memories
INPUTS: 3.5mm line level input, DAC, 2.4 gig wireless connection to smart phone
OUTPUTS: 3.5mm headphone & preamp
TUBES: [1] 12AX7, 6N1, 6E3 cat's eye VU meter
SIZE: 12" wide x 7.5" deep x 7.5" high

DARED Mainline Models
These models are larger & feature state-of-the-art quality construction, including toroidal power transformers, gold RCA input & double bananaoutput connections, autoamtic tube biasing, ceramic tube sockets with gold pins & a 2 year parts & labor warranty.

SATURN Integrated Amp, Single-ended, $2700
25W/ch, VU meter. Many audiophiles love Single Ended Tube Amps for their superior imaging & natural midrange. Some well-known SET amps cost ten times more than the Saturn & have under 10 watts. The Saturn is both more affordable & more powerful than other SET amps, giving you a greater dynamic range with less distortion. The extra power enables the Saturn to drive many more speaker models [92db & up efficiency] than other SET amps.

FEATURES: 4 line level inputs; USB Digital Analog Converter, 32 bit, 384 khz., Remote Control
TUBES: [2] KT120 outputs, [2] 12AX7
OUTPUTS: 4 & 8 ohm speakers; headphone & preamp.
SIZE: 14.75" wide x 12" deep x 7.5" high

PRIMA LUNA

PROLOGUE
Classic Integrated amp, 35W/ch
Three preamp
Four power amp, 35W/ch

Thanks to you, our customers, we continue to grow for over 40 years. Here are reviews on some of our products.

PRIMA LUNA REVIEWS

PREAMPS

DIALOGUE 3, rated in same class as $5700 preamps "Prima Luna's new top-of-the-line preamp weighs 53 lbs., has point-to-point wiring & dual mono construction, uses 2 rectifier & 4 triode tubes & is housed in an attractive steel chassis painted with 5 coats of hand-rubbed blue gray lacquer. Its clean rear panel has 5 line-level inputs, 2 system [power amp] outputs, one tape monitor output & pass-through jacks. The Dialogue 3 offered timbral clarity, richness & an excellent sense of scale; a shoo-in, a must hear." STEREOPHILE

DIALOGUE 3 Preamp, "This surprisingly hefty preamp generates tremendous WOW factor - it's difficult to believe that such engaging, gorgeous sound, coupled with a wonderfully expansive soundstage, can be had for such a modest price. One of its most compelling virtues is that it lets music "breathe" & flow effortlessly. If you want to listen for hours without any aural fatigue & be transfixed by the musical performances & the gorgeous timbres of instruments & voices, you've come to the right place."ABSOLUTE SOUND

DIALOGUE PREMIUM Preamp, $3199 "The Dialogue Premium line preamp strikes me as one of the best things PrimaLuna has ever done. In particular, purity of expression & tonal realism are two of its strongest sonic assets. The Premium version is now able to swim with and compete effectively against high-end's cost-no-object heavyweights. And that is a rarity. If you're looking for a basic line preamp that is sanely priced and offers genuine tube magic, this is it! An enthusiastic two thumbs up recommendation!" ENJOY the MUSIC.COM, 2014 PRODUCT of the YEAR
POWER AMPS

DIALOGUE 7 mono block power amps, "These surprisingly powerful monoblocks are just the right tonic to make you fall in love with your system again. They reproduce music with the natural lushness & sense of space one hears in live music, while maintaining transient quickness without a hint of tube sluggishness. Their soundstaging & truth of timbre are reference quality. The supplied remote lets one switch between the more dynamicallly explosive, incisive & tonally balanced ultra-linear sound or the more beautiful & palpable triode sound. It's like getting two amps in one." ABSOLUTE SOUND

INTEGRATED AMPS

PROLOGUE PREMIUM $2299, 35W/ch, rated in same class as $6,500 amps "The solidly built Prologue Premium is rated at 35W/ch with its stock EL34 output tubes or 40W/ch with KT88s. It has a heavy-gauge, ventilated case with a lustrous 5 coat finish, features point-to-point wiring & 5 pairs of RCA input jacks, a Home Theater bypass & connections for 4 & 8 ohm speakers. Produced a natural, inviting midrange & performed well with a wide variety of speakers; offers outstanding sound quaity at a very reasonable price; respectable measured performance." STEREOPHILE

"My go to moderately priced integrated amp is the $2299 Prima Luna ProLogue Premium. It worked well with the Focal Aria 936. While it had just a bit more tube character & a bit less transparency than the $13,500 CAT preamp / Mcintosh 275 power amp duo, the Focal/Prima Luna pairing is one I could live with quite comfortably. I also listened to a $23,000 Simaudio preamp & power amp; my preference remains with tubes." STEREOPHILE 11/14

DIALOGUE PREMIUM Class A, rated in same class as $34,000 amps "Prima Luna's top-of-the-line integrated amp is rated at 32W/ch with its stock EL34 output tubes or 43W/ch with optional KT120s. It uses Prima Luna's Adaptive AutoBias feature for easy swapping of output tubes & has a bad tube indicator, power transformer protection & output transformer protection circuitry. Extremely quiet & sounded bigger than its power rating suggested, with a rich midrange & an excellent sense of timing; a dream come true." STEREOPHILE

"A tube-roller's delight, thanks to auto-biasing the Dialogue can hardly be bettered when it comes to user friendliness & operational flexibility." ABSOLUTE SOUND EDITOR'S CHOICE


DIALOGUE PREMIUM HP $4,199, 70-85W/ch "Excellent value. Prima Luna has another winner. Built to a high standard, with very useful features -Adaptive AutoBias, Bad Tube indicator, switching between triode & ultralinear modes from the remote control & headphone output - the sound quality closely approaches reference Class A $16,000 preamps & power amps. The similarities [to $16,000 amps] were more evident than differences. Both had the smoothness & musicality that tube aficionados appreciate, but without the excessive warmth & rolled off treble of some tube gear. Background noise was absent & both amps' power transformers were quiet. The difference was surprisingly small - & smaller than the price difference suggests. It had a smooth musicality & an easy-on-the-ears quality that is quite beguiling. With its all-tube built-in headphone amp, I've never heard my Grado headphones sound so good." STEREOPHILE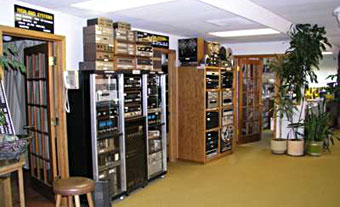 Gold Sound has a great selection of vintage tube equipment from Dynaco, Eico, Fisher, Harman- Kardon, Heathkit, Leak, McIntosh, Scott, Bogen, Sherwood, & more...

MONTHLY SPECIALS
on New, Demo and Used Equipment !

Gold Sound is now celebrating our 40th year in business!

Best selection of used tube equipment in Denver!

This Page Last Updated: 11/5/16



Visitors since Jan 2001

Copyright © 2001-2007 GoldSound, Inc.
.